I was trying to delay writing this post, thinking it's going to work out in the end, but I no longer have a choice. Maybe BMW West Island will finally take notice and give back what belongs to me.
Synopsis
BMW West Island (located in Dorval, Quebec) failed to sell me a car, and in return, has not credited my deposit of 200.00$. After repeated phone calls and text messages to the sales rep, I have gone ahead with a charge-back and the publication of this review.
The real reason for this review, however, is to bring light to some of BMW West Island's shady practices when selling a car.
To make this review easier to read, I have split it up according to the time line of significant events, grouped by date.
December 20th, 2010
There was a 2008 BMW 535xi on sale at BMW West Island. I found the car through BMW's Inventory Model Search website. Without hesitation, I decided to check out the car the same day by showing up at the dealership. I was paired with a sales rep (who I will call John for privacy reasons) who was pretty friendly. The asking price on the car was 36,900$. It was not Certified Pre-Owned and there was no warranty. Without getting too much into the technical details of the car, I knew about the HPFP problems beforehand. I asked John if he can show me service records concerning the car. His excuse at the time was "the service department is closed, ask me tomorrow". Before I left, the sales rep asked if I wanted to put down a deposit of 200.00$ to keep the car for a week so I can think about the purchase. I asked if the deposit was refundable if I decided not to purchase the car, and he said "yes, totally refundable, don't worry". I then agreed to put a deposit down of 200.00$ with my credit card. John even went as far and wrote "refundable in total" on the receipt with his signature, which I still have.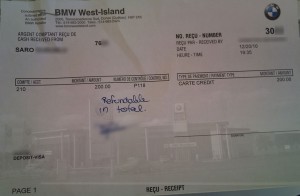 The following day, I emailed him asking for the service records and some questions concerning additional services and options. No reply was given, and I didn't hear from John again until I finally got in touch with him 2 weeks later by phone. I asked him if he can lower the price down, but said he couldn't.
During this time, there was a credit check going through. The results were that my credit wasn't strong enough, and I would need a co-signer to be eligible for financing. I refused, telling them to try harder, since I knew my credit was very strong.
The next 2 months was silent once again. I called John's phone several times and left messages stating I would like to talk with him. He never called back. In the mean time, the car wasn't sold by BMW West Island.
February 14th, 2011
My first request for my deposit to be returned was on this date. The sales rep quickly turns the conversation around and says that my financing request did indeed go through, even though I was denied before. I then asked him to drop the price of the car down, as it was clearly too high (I asked for 32,900$). John said that he couldn't do that. I told him I just want my money back.
March 17th, 2011 – How to catch a liar

The price of the car drops to 32,900$ and negotiations resume. Once again, even though my credit was first denied, then approved, it was now no longer good enough.
What makes this review better was that I caught the sales person diverting the truth, or border-line lying.
I ran a CarProof and CarFax report on the vehicle for curiosity's sake. According to the CarProof report, there were 11 service events, with 2 "minor" accidents (that I knew about). John only showed me 7 out of 11 records, which were basic repairs done to the car. Looking at the records carefully, gaps were detected between events. When I asked the sales person at BMW West Island if there were anymore records, he said "no, this is what I was able to pull from our database."
CarFax, on the other hand, showed that the car was driven to New Jersey, which is nothing to be alarmed of.
This is where I asked John, "you know, I know this car has been to New Jersey. Did you know about that? I also checked CarProof, and there are 4 missing records. I can't buy the car without seeing those missing records."
His response?
"I don't care."
March 21st, 2011 – Credit reports, credit scores and awkward moments

John text'ed me asking if I could come by the dealership and talk with his manager. "He has a sick deal for you, you'll love it." I stopped by BMW West Island on the way home. The manager, the sales rep and I sat down in the former's office. The conversation turned out to be about my financial history.
"Your credit history is really, really bad… you're not paying your bills on time. Your credit score of 580 is really not good. We're willing to work with you though, just pick out a car that is less than 30, 000$. Once you show us that you pay your bills on time, and when your credit score improves, you can pick any other car after that."
At this point, "what the fuck are you talking about?" ran through my mind. My response, however, went something like this: "What do you mean bad? I've never missed a payment in my life! And my score is certainly not 580!"
Confused, the manager looks at me, and asks: "How many credit cards do you have?"
"Three," I said, "with a combined limit of…"
This is when the manager is surprised to hear about my higher than average limit. Obviously, a man that has zero debt with high mileage cards can't have a score of 580.
"Did you ever give us your social insurance number?"
"Nope" I replied.
To cut the story short, BMW West Island ran a credit check on the wrong person. Go figure.
I later found out my credit score was 733 through Equifax Canada.
March 29th, 2011

Fed up of BMW West Island's stupidities, I asked for my deposit back (second time) via text messaging. No reply was given.
March 31th, 2011
Third request of my deposit back, via text messaging. No reply was given.
April 4th, 2011
Final and fourth request for my deposit to be returned (at 12:50 PM) via text messaging. My deposit, as of April 22nd, still has not been refunded.The salesperson responded to my text message, saying "no problem". On April 12th, 2011, I filed a chargeback with my credit card company against BMW West Island.
Conclusion
BMW West Island lost a customer for good due to their incompetence. They still haven't returned my measly 200$ deposit.
Perhaps John did not take me seriously due to my age (I'm 26). Who knows?
My story is just one of many concerning this dealership: I keep hearing horror stories from friends and online reviews. Actually, just recently a friend of mine told me they were trying to sell him a stolen X5. I can't divulge any more details for legal reasons.
Once my current car lease is over, I plan to buy from BMW Laval in September.