I have a ZFS fileserver at home that has about 8 hard drives serving 5.7 TB of data. I plan to throw in more hard drives soon, but I no longer have free SATA ports on my existing controller card and there's no room in the chassis for additional drives.
First order of business was to find a suitable controller card for the fileserver. It has to be compatible with OpenSolaris and FreeBSD (planning to switch over operating systems soon). With a bit of shopping around, I came across Supermicro's AOC-SASLP-MV8 SATA controller card. Supermicro is a very reliable company when it comes to server and workstation products. I say this because I am currently using their AOC-SAT2-MV8 controller card, which is equivalent to the AOC-SASLP-MV8 but in PCI-X 133mhz form. The PCI-X card is readily available, but I would not purchase it again because the form factor is technology that is not widely used anymore. I believe it is already in the process of being phased out in the server market.
Currently, the AOC-SASLP-MV8 is not in stock with the popular retailers (NewEgg, NCIX, BestDirect). The ETA, according to the retailers, is about 1 to 2 weeks. It costs about 100.00$ CDN.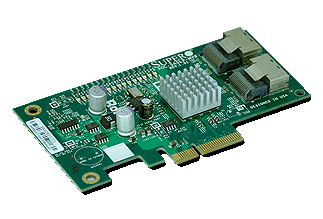 The next step for expanding my ZFS setup is to find a nice rackmount case with 16+ drive bays. I'm going rackmount instead of a pedestal because there will be no "wasted space". Checking on NewEgg, I found Norco dominating the server chassis offerings. Here's the ones I am currently deciding on:
The latter two units will require special miniSAS to SATA cables. I think I might end up going with the 24 hot-swappable unit for future-proofing my setup. Now I'll have to find a suitable power supply to handle 24 hard drives!